Flux HW240
The semi-aqueous, halogen-free No-Clean flux HW240 consists of a solvent mixture of fully demineralised water and alcohol and thus meets the increasingly demanding environmental requirements. With the HW240, the proportion of volatile organic compounds (VOC) can be easily reduced if, for example, the existing solder system technology does not allow the use of a completely water-based flux. With the use of HW240, the emission of organic solvents can be reduced by approximately 50 % compared to purely alcohol-based fluxes – with the usual No-Clean suitability and very good solderability on most surfaces in electronics production.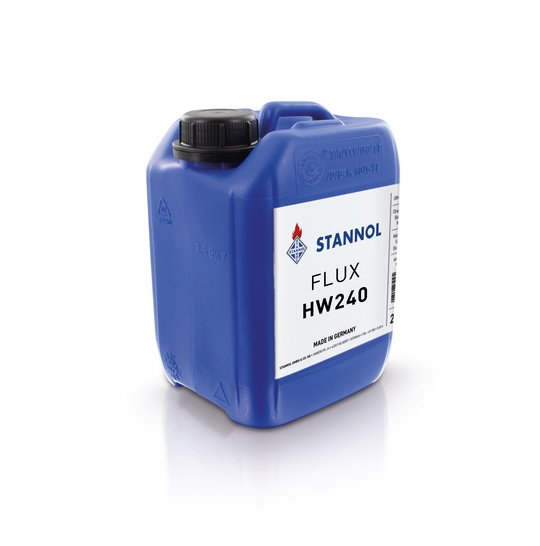 Product Advantages
perfect activity for most surfaces
good wetting of through holes
hardly any visible residues
high electrical safety
high SIR values
due to low amounts of residues, no problems regarding ICT
Application
The flux HW240 has been developed primarily for application by spray fluxer. The preheating temperature for pre-drying in the wave soldering system may have to be increased slightly in order to dry the solvent mixture before contact with the wave. This also optimally prepares the activators contained and ensures sufficient preheating of the assemblies.